Stonework
As a master mason of over 39 years of experiences. I've done many stone jobs with natural stone. Both up the wall as a veneer and flat for a patio. Some people have no problem with the budget required for a natural stone patio. Today there are several natural thin stones available on the market place for patios walkways and pool decks. In some cases you can go over existing concrete surfaces. The key words here is "SOME CASES". While this may appear to be the most cost effective way to upgrade an existing surface it is not always the best choice.

While you may have to remove your existing concrete to have a stone patio, I've found the costs of natural stone still will be much more costly than a Paver Stone paver. Below is the Belgard Mega-Arbel paver. I like this for several reasons.


A natural Look on a grand scale.
The many color choices available.
The ease of Installation compared to natural stone.
Cutting to achieve a tight and consistent flowing joint between the stones is reduced.
Colors can be combined to create custom color effects.

Call for a free budget estimate or design consultation appointment.
Or click here to request a free online budget estimate.



Mega-Arbel®
A natural look on a grand scaleMega-Arbel pavers give homeowners the perfectly integrated, natural-looking hardscapes they desire. Its scale is similar to natural flagstone and roughly two times larger than Arbel Stone, its smaller counterpart. Plus, installation is easy — cutting is reduced to a minimum due to its ingenious interlocking design.


Colors and Shapes Actual color and size may vary. To assure your total satisfaction, request samples of the style and color you're interested in. Available in Northern Ca. (No. CA), Southern Ca. (So. CA).



Baja
(No. CA)

Bella
(No. CA, So. CA)

Montecito
(So. CA)

Toscana
(No. CA, So. CA)

Victorian
(No. CA, So. CA)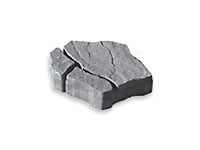 Mega-Arbel
Main Module

3 1/8" x 15 3/8" x 21"

Mega-Arbel Patio Stone

also available: 2 3/8" x 15 3/8 x 21"

Note: There are 6 different configurations within the same basic footprint.



Call for a free budget estimate or design consultation appointment.
Or click here to request a free online budget estimate.

Some of the Man Made Stone Veneer Products, Like Eldorado Stone and Cultured Stone Products.

We can also install many of the stone products and Precast on the marketplace as well.

Some of the examples from Eldorado Stone Products:


And Thin Brick Products From Eldorado:


Accents From Eldorado: