"Bringing Enjoyment to the Families of our Community One Backyard at a Time"
Call Us: 559-442-1999
Hardscape Services
R Lacy Interlocking Pavers is a well-established hardscaping company that handles all manner of big and small masonry and paving jobs. We are committed to providing clients with value for money and customize all the solutions we offer to their needs. The use of high-grade materials and the skill of the best installation professionals help to ensure that every feature we design, and install is outstanding in every way. The range of services we offer include: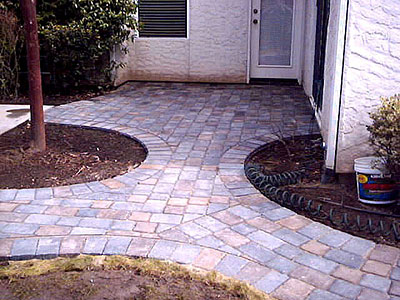 Masonry/Hardscape Consulting
Whenever any landscape is being constructed, a lot of design and planning goes into it. Our company has the expertise to provide custom masonry services to our clients. A lot of the customization comes from the proper understanding of our client's specific styling requirements. When we are consulting with our clients, we focus on aspects such as budget and timeframe as well. Our team of hardscape designers has vast experience in the space and offer their inputs and ideas for your new masonry or hardscape installations. Our creativity and skill in this field go a long way in ensuring that you get superb outdoor spaces. Read More About Masonry/Hardscape Consulting »


Hardscaping
We handle all hardscape design requirements. Whether you need a patio designed and built, a driveway, walkways, retaining walls or an outdoor kitchen, we are here to help. We work very systematically and ensure that your hardscaping features are planned perfectly to be functional and resilient. We use high-quality materials in the work so that they can withstand the elements and regular exposure to the outdoor environment. The skill of our hardscape designers is evident in the unique solutions that they provide. Our company makes sure that the installation is completed to industry standards, so you have long-lasting hardscapes. Read More About Hardscaping »


Patios
A patio is an excellent addition to any space. However, these features do see a significant amount of use and exposure to climatic conditions. It is why our company recommends the use of pavers for patios. We can design and install these structures based on your specific needs and the architectural elements of your home and landscape. Paver patio design and installation is something that we have vast expertise in. You can choose from concrete interlocking pavers or ones made of brick or natural stone. Once you have decided on the type of material you want, our paver installers will complete the construction to industry standards. Read More About Patios »


Walkways
Walkways are a standard feature on most properties. When designing and installing this structure, we make sure that its styling and look complements the overall design and pattern of your driveway. We also make sure that it is proportionate to the available space and that the installation is completed correctly. Whether you want a natural stone walkway, or one made of interlocking concrete pavers, we are here to help. We customize our solutions so you can be sure that the walkway we design and install for you is perfect for your needs and in line with your styling requirements and budget. Read More About Walkways »


Driveways
A driveway is an essential aspect of almost every property. It is also one feature that is very visible from the curb, making it necessary to design and plan it with attention to detail. We can plan paver driveways for you. There are various materials to choose from, including natural stone, brick or concrete interlocking pavers. These are available in a wide variety of designs, styles, sizes and shapes, making it possible for skilled and experienced hardscaping designers like us to create unique patterns on your driveway. We will complete the installation to industry standards, so you have a superb paver driveway. Read More About Driveways »


Retaining Walls
If you have soil erosion issues on your property, you need to address them without delay. In addition to various other solutions, retaining walls are the ideal way to make sure that your landscape gets the right amount of support. Block retaining walls help to prevent soil erosion and can be built in any area of a landscape. We can also incorporate seating or planter features in it to give it dual functionality. Specially engineered walls are resilient. We use materials such as concrete masonry blocks, natural stone, brick, cement and other materials that can withstand exposure to the elements, in their construction. Read More About Retaining Walls »


Pavers
Pavers are the ideal material for various outdoor features such as a driveway, walkways, pathways as well as entryways, courtyards, patios and decks. There is a wide variety of paver materials that you can choose from, including concrete, stone and brick. All of these are highly resilient materials. We use pavers of the best brands that are also covered by excellent warranties. We handle the installation of paver stones to industry standards so that the outdoor features on your property are resilient, easy to maintain and durable. We focus on unique designs and perfect installation processes in all our paver installation projects. Read More About Pavers »


Outdoor Kitchens
An outdoor kitchen is an excellent backyard feature and is the perfect setting for family dinners as well as parties and barbecues. This structure needs to be planned correctly to provide you with the functionality that you need. We custom design every aspect of your outdoor kitchen so that it meets your family's needs and withstands the test of time. We create the countertop layouts and plan the placement of appliances, the seating arrangement and other features such as the fireplace, outdoor lighting and more. This start to end solution helps ensure that you get a superb outdoor living space on your property. Read More About Outdoor Kitchens »


Outdoor Fireplaces
One of the best ways to improve the comfort quotient of your yard is to install an outdoor fireplace. These structures can be as elaborate or simple as you want them to be. We can design and install custom fireplaces for you. Based on the style of your outdoor spaces, we use materials such as natural stone, brick or concrete as well as blocks in constructing outdoor fireplaces. We will plan every aspect of your outdoor fireplace installation include the design, placement as well as fuel etc. This detailed approach helps to ensure that your outdoor fireplace is a real value-add to your home. Read More About Outdoor Fireplaces »


Stonework
Creating a beautiful and unique outdoor space is a lot about choosing the right types of materials and getting various structures installed by experts like us. We can design and plan superb outdoor areas using unique stonework concepts. Our team of designers uses multiple types of natural stone include granite, slate, bluestone and flagstone etc. to create stonework structures that become the focal point of your landscape. Since these features are custom designed for you, they fit in perfectly into the overall aesthetics and plans of the outdoor areas on your property. Stonework adds a unique look to the space and increases your property value. Read More About Stonework »


Pool Decks
To a large extent, the beauty and safety of your pool area depend on how great the deck design, plans and installation are. We are the experienced pool deck designers that focus on every aspect of planning and designing this feature so that it is safe and comfortable for use. We make sure that the materials chosen, and all installation work is completed to industry standards. We recommend the use of paving stones with anti-slip surfaces as these are perfect for pool areas that see a lot of water as well as regular use. Paver pool decking is also very easy to maintain and can look great and last for many years. Read More About Pool decks »


Masonry
Every landscape big and small will have a variety of masonry features. These could include garden walls, retaining walls, curbing, edging, stone benches, planters and other decorative elements. We have the expertise to handle all types of outdoor masonry jobs skillfully. Our hardscape designers work with you to get a clear understanding of your specific requirements and then provide masonry designs and plans that are right in line with your preferences and budget. We use high-quality masonry products, including cement, aggregates, natural stone, brick and more so that you have resilient and easy to maintain masonry elements on your property. Read More About Masonry »


Masonry Art Features
Stonework, brickwork, granite, and sandstone are just a few materials we use to create masonry art elements. Our talented and innovative team works diligently to ensure that every project is completed on time and to the highest possible standards. We pay close attention to detail and use high-quality materials in the right proportions and designs to achieve the best outcomes for our clients. We have the knowledge and skills to make your idea a reality, whether you're searching for a spectacular stone patio, a lovely brick pathway, or a distinctive granite fire pit. Thanks to our dedication to excellence and client satisfaction, you can rely on us to provide the stunning, long-lasting masonry art elements you've been dreaming of. We will customize our solutions so you get superb outdoor features that blend with your landscape and property aesthetic. We are committed to offering our clients excellent value by customizing our solutions to their needs. Read More About Masonry Art Features »

We are a company that is committed to providing top-notch services to commercial and residential clients. Our customized approach and personalized services go a long way in creating delightful experiences for our clients.

For any more information about our customized hardscaping services, feel free to contact R Lacy Interlocking Pavers at 559-442-1999 through this Online Form, and we will call you within a short while to discuss your project details.